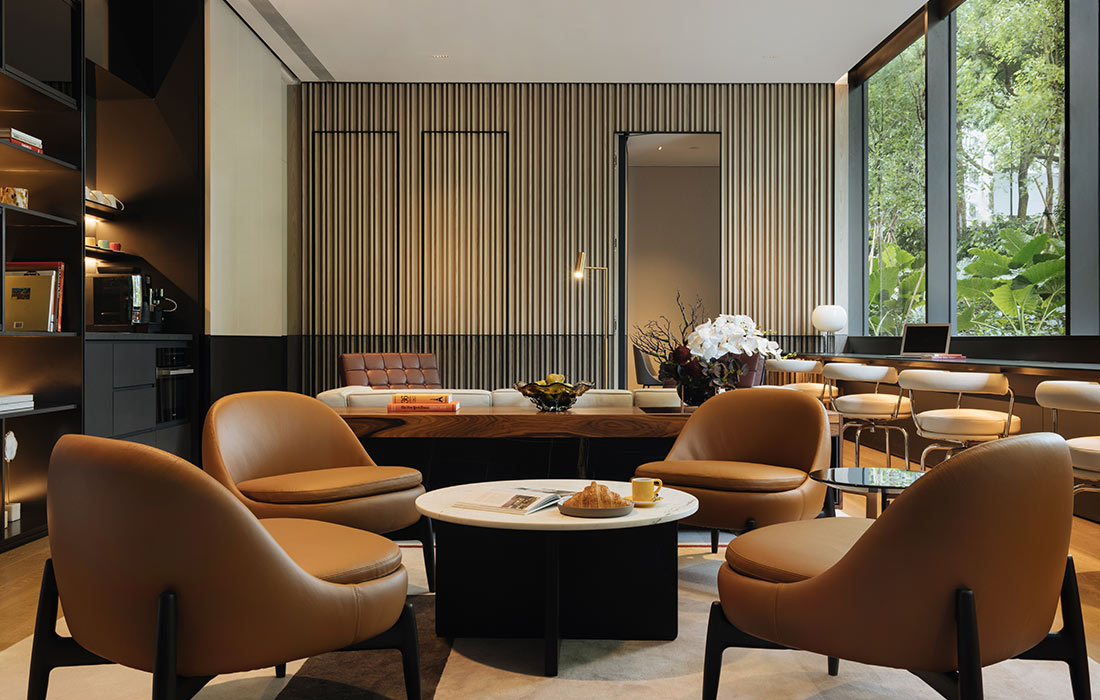 "We should attempt to bring nature, houses and human beings together into higher unity."
MIES VAN DER ROHE
ARCHITECT
Set alongside a naturally forested landscape, the Clubhouse provides the perfect hideaway for quietude, a space to reflect and simply dwell on life before the world outside rushes you on.
Carefully appointed to consider your every need; residents can recharge with an energising work-out in the state-of-the-art gymnasium. Looking for a slower pace in life, the Clubhouse lounge provides a relaxed art-filled contemplative space with an eclectic selection of books to intrigue and explore, all cleverly designed to provide a quiet co-working space and a place for relaxed entertainment to cultivate friendships.
Entertaining becomes effortless, whether it be a sophisticated dinner in the Clubhouse or a relaxed barbecue in the Outdoor Pavilion, our Concierge are on hand to help plan the perfect event.
Dedicated to providing exceptional service, our Concierge team is there to ensure that living at Cuscaden Reserve is more than an assent to living well, it is the luxury that knowing everything is taken care of.
Creating a luxury home goes beyond architecture, it is the attention to the finer details that helps create a unique and special ambience for our residents. To safeguard our architectural vision and the promise of the ultimate living experience, SC Global's collection of residential properties are managed by Seven Palms Resort Management, the estate management arm of SC Global Developments.
In a first of its kind collaboration designed to provide a truly unique and exclusive cultural experience for residents, Cuscaden Reserve will be managed by Seven Palms Resort Management in collaboration with K11 ARTUS. A seasoned team of property management and hospitality professionals unified in their vision to elevate the artistry of living to a new level.
K11 ARTUS in Hong Kong's Victoria Dockside is an ultra-private luxury residences by New World Development that redefines the intimate living space by providing Asia's first hybrid "Artisanal Home" concept with comprehensive hotel services and an inspiring environment for cultural discovery and intellectual exchange.
Residents will experience a service culture delivered through K11 ARTUS, which takes inspiration from the craftsmen and principles of fine art, with a team of trained artisans empowered to anticipate residents' needs and deliver thoughtful touches to delight and inspire.